Why EarthSmarte
A popular reference website states, "water purification is the process of removing undesirable chemicals, biological contaminants, suspended solids, and gases from water. The goal is to produce water fit for a specific purpose." That sounds pretty good, but the fact remains that an awful lot of water purification methods either don't work well, don't work at all, or the filters are a pain in the neck to change.
At the end of the day, you want clean water in your home. Clean water for doing laundry, clean water to bathe in, and clean water to drink without concern for your health. At EarthSmarte Water of Tennessee, we think a direct solution is a smart solution.
Utilizing cutting-edge technology, we are able to deliver whole-house, salt-free water treatment systems. Better yet, our water systems DO NOT REQUIRE any annoying or BULKY FILTERS. Instead, when you turn on any faucet within your home, you'll get clean and filtered alkaline water.
System installation is quick and simple, and equipment can be placed either horizontally or vertically. Your system requires no maintenance at all. Best of all, it's all backed by our 15-year warranty, so in the unlikely event that there's a problem, you can feel secure that we'll handle it without a hassle.
Are you ready for a water purification system that actually works? Contact us online or by phone today to get started.
---
We work with EarthSmarte Water, Inc., a full-service water treatment supplier with more than 40 years of experience treating water problems.
---
The Differences
EarthSmarte Water of Tennessee distributes whole house, no-salt, hard water treatment systems manufactured by EarthSmarte Water, Inc., a company of which we are an Authorized Dealer. More than 40 years of experience treating water problems went into developing our water treatment systems.
The PhSmarte 1000 Whole House System uses NO salt or potassium, requires NO maintenance, NO filters to change, and the unit is self-cleaning. This is just one of our many water treatment systems.
The Versatile Design Enables:
Prolongs the life of water using appliances and water heater
Removes existing scale in 90 days
Prevents new scale build-up
Makes ugly mineral deposits easy to remove
Saves money on soaps and detergents.
Absolutely NO MAINTENANCE
Makes water more soluble
Helps unclog shower heads and faucets
Designed for municipal (city) water problems
Treats up to 60 GPG hardness
Can be used on PVC, copper, or galvanized pipes
The EarthSmarte Water No Salt Whole House Hard Water Treatment System supplies Alkaline water consistently throughout your entire home.
---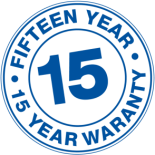 Our System Includes an Exclusive 15-Year Warranty
---
No Salt or Potassium. No Maintenance. No Filters to Change. Reduces Hard Water Scale. Removes Chlorine, Chemicals & VOC's.